Seat Pan
So we finally got around to getting the seat finished out on the RD400.
Here's the leather we're using. It's super fun. You can stretch it and scratch at it and it patinas really nicely.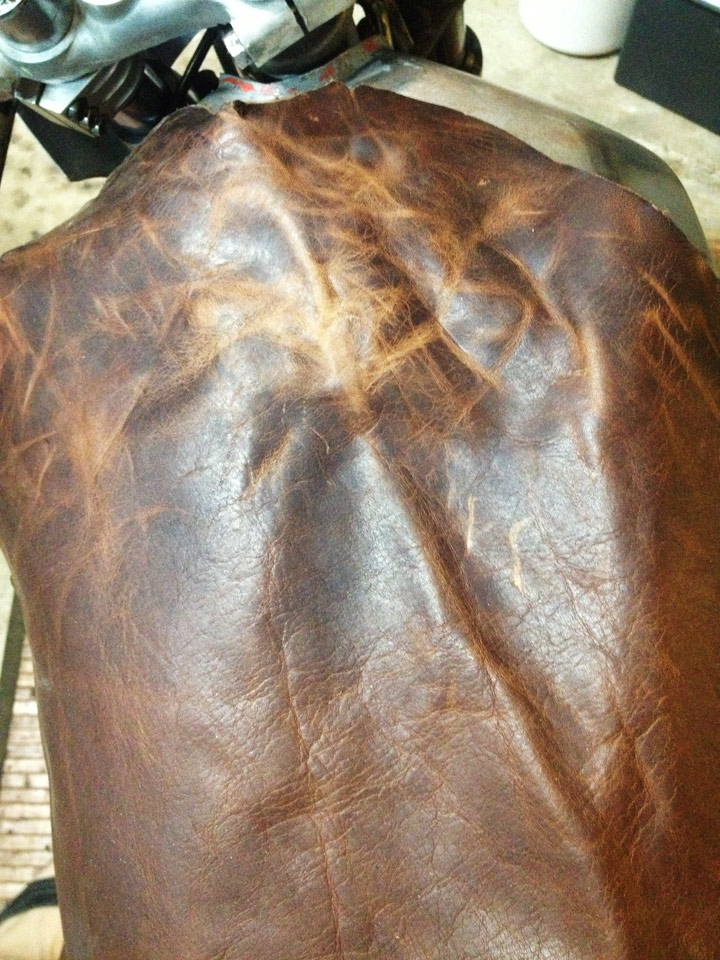 The process was basically the same as last time, but I thought I'd document it anyway.
We started off by covering the seat with foil. Usually I lay down a layer of masking tape and then a layer of aluminum tape, but I was out of aluminum tape. While I was busy complaining that I didn't pick any up, Kate suggested we throw foil on it… because she's SUPER smart.
Here it is, ready for the alien invasion.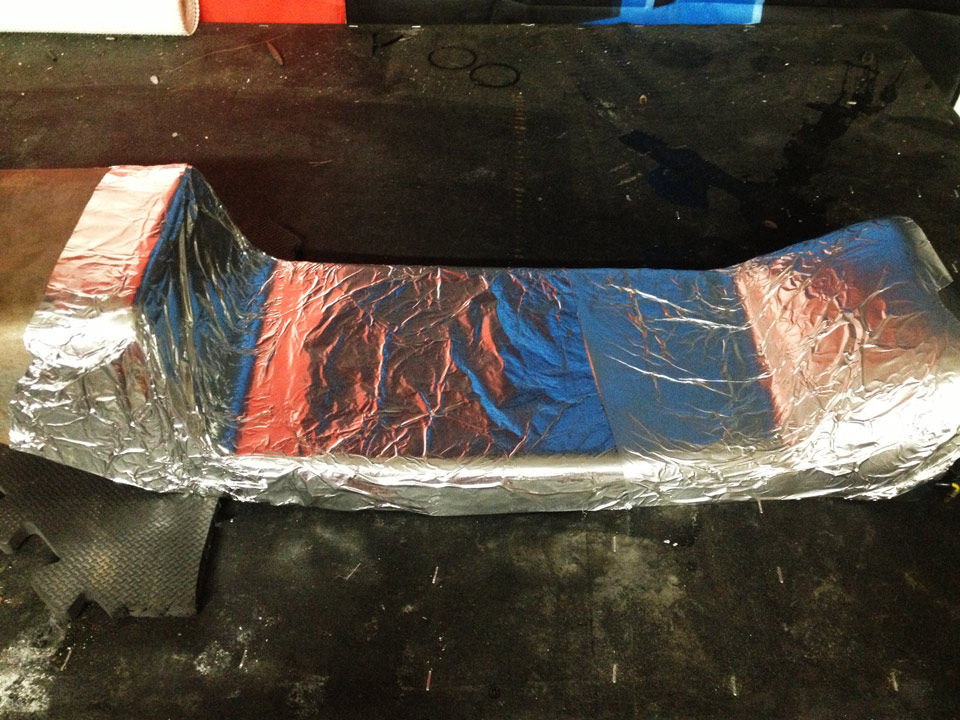 We threw down a layer of the smooth fiberglass cloth, followed by a few layers of chop and then a few layers of the smooth cloth again. We let it sit for about 24 hours and it was SOLID.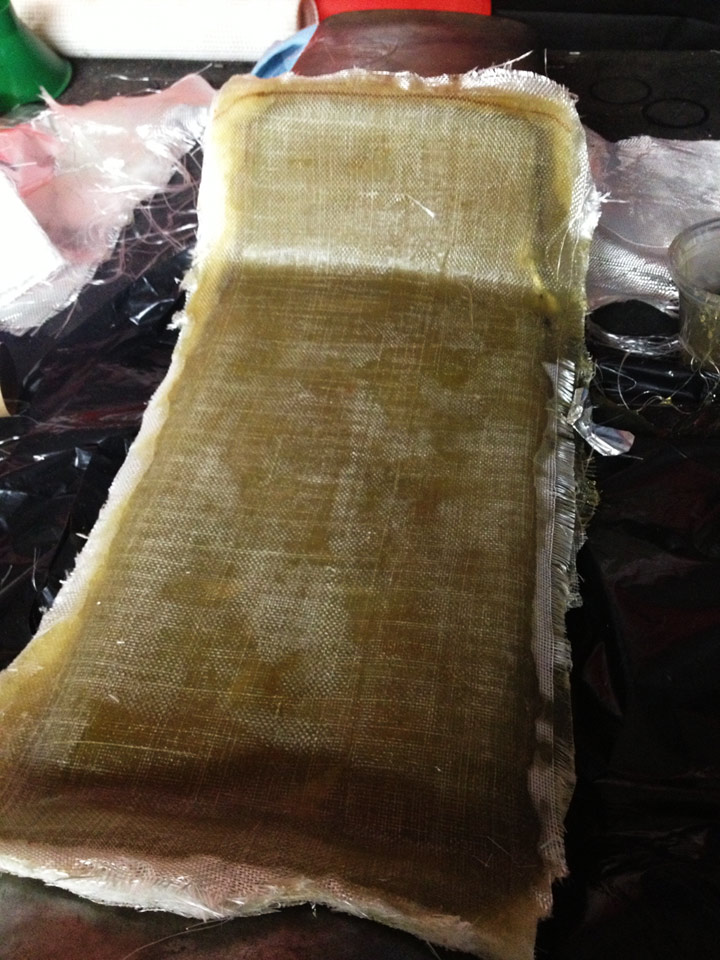 I got it all trimmed up and tested for fit. Notice I made it slightly smaller than the seat itself. This is to take into account any additional padding that sticks out once the seat is foamed and covered.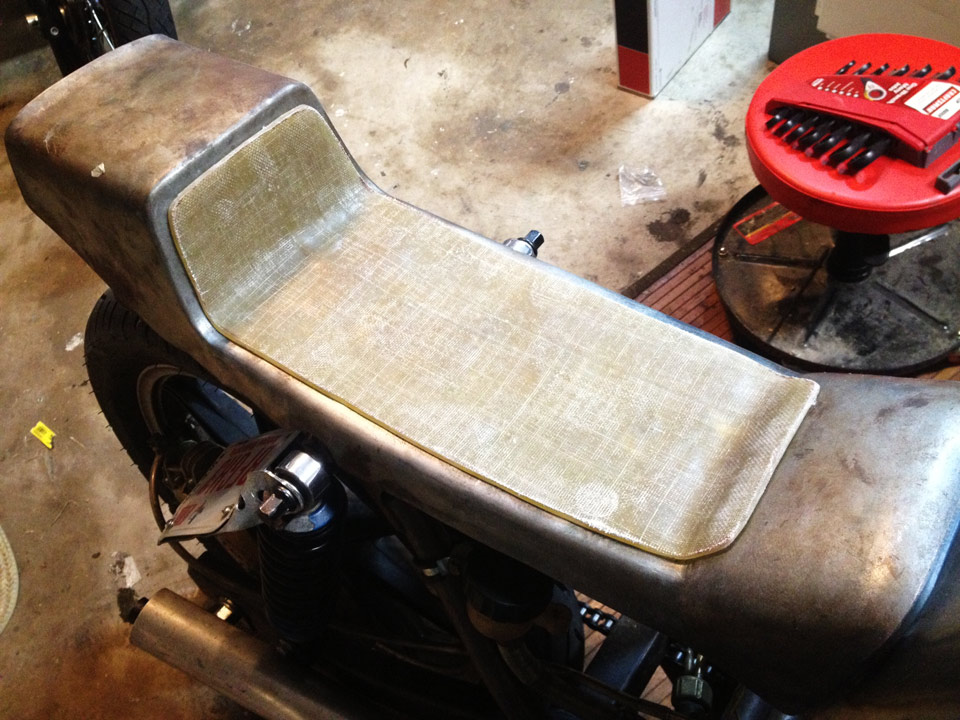 And just for fun. This is what I look like after cutting up fiberglass with a Dremel. Sucks YEARS off your life (notice all the grey).
We sent it off to the guy we used last time – Bill's Upholstery in Arlington. This is the final product.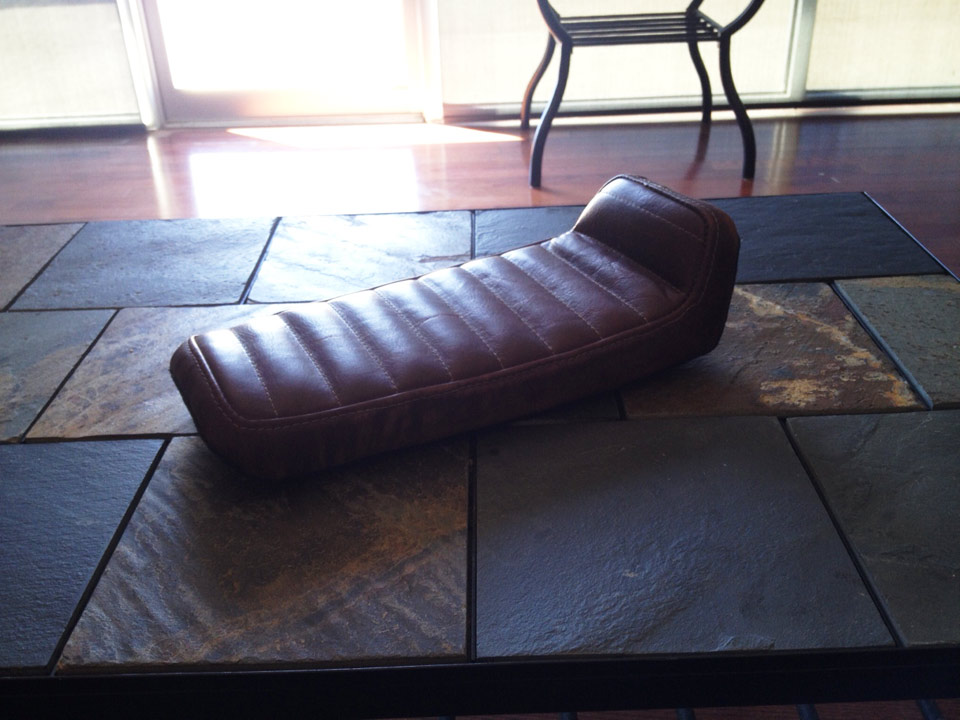 Overall I'm super pleased. It's a little thicker than I was expecting, but considering what they went through working with the leather I sent them, I'm pretty happy with it.
And here it is on the bike.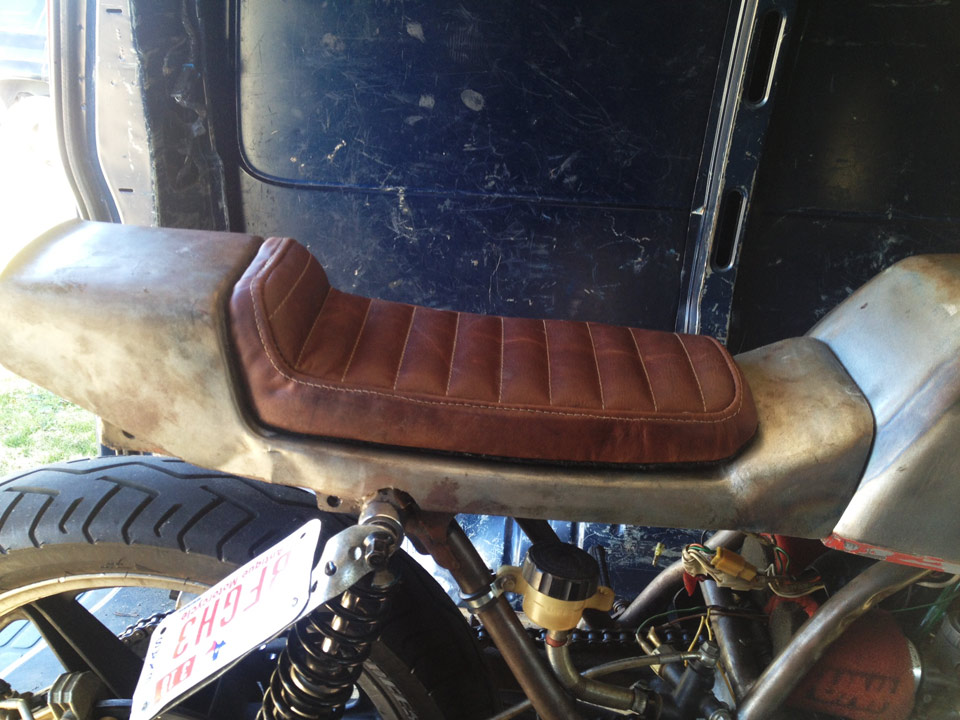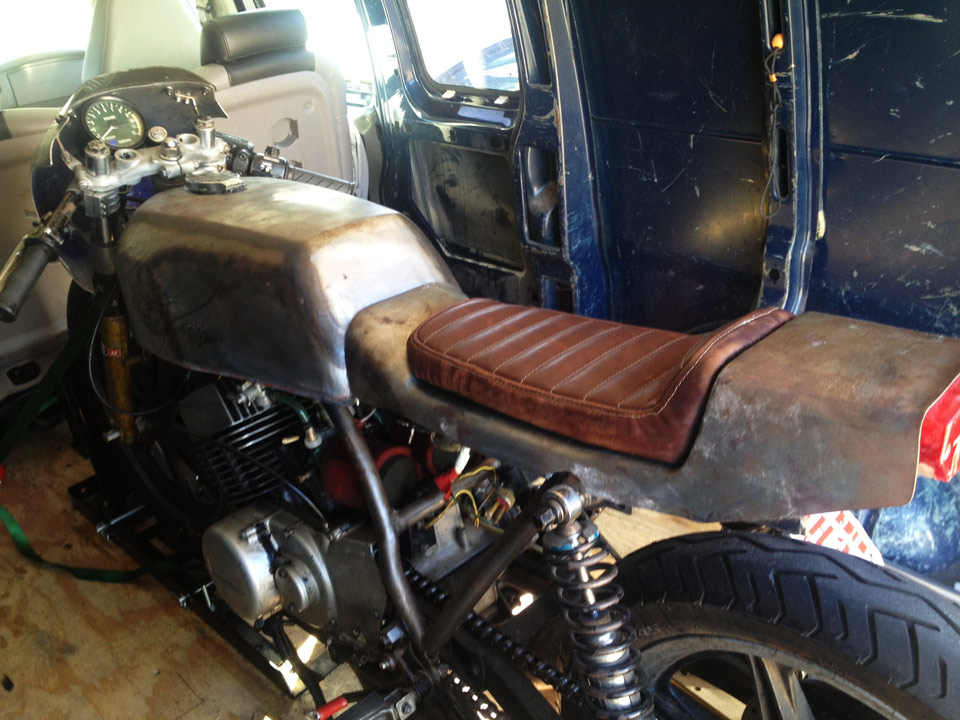 I'll get some better photos of it soon and post them up here!
So my little thin seat pad just wasn't cutting it anymore so I set about making a new, more comfy one.
I started by taping off my seat to create a new seat pan.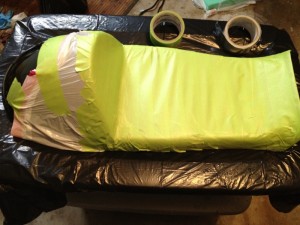 Then I cover the whole thing in aluminum tape.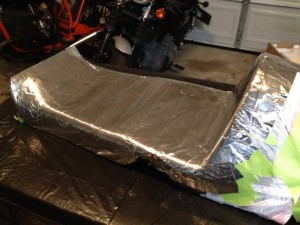 Then I do the fiberglass work. I don't have any pics of this because it's a messy process that requires a bit more attention. Prior to this step I did pre-cut 5 layers of fiberglass cloth the shape of the seat. Once you mix up your resin and hardener, you'll want to have a cup of acetone standing by for your paintbrush so it doesn't get hard. From here, I just lather on the resin and add a layer of cloth.
I let it sit for about 20 hours.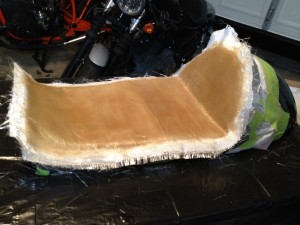 Then I draw cut lines and start chipping away at it. This is best done a little bit at a time. Better to take off not enough than too much.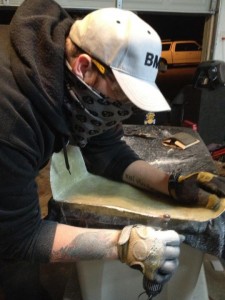 Once I have it cut to shape, I used a block sander to get the edge straight and pretty. The fit is good!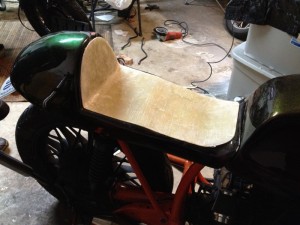 I was a little back and fourth on how I wanted to cover it. Originally I thought I might do it in two pieces.. like a car seat… but I've since been convinced it should be one piece.. which means the back needs to be strengthened so it doesn't bend forward when they stretch the material tight. I was advised by a composites / materials expert that this was an acceptable way to accomplish this. We basically bent some aluminum to the right angle and then drizzled resin around it to mold it in. Worked a treat!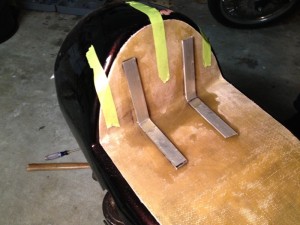 I dropped the seat pan off at this place. Not only did they do a great job, but the price was pretty good.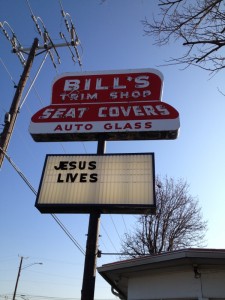 And here she is.. all padded up and ready for some bum-lovin..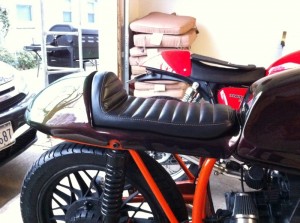 I logged about 100 miles on it the other night and my bum was happy the whole time. Yaay!
It's really like.. part 8.. or something.. isn't it?
Anyway, after all has dried and sat up for a bit, I pulled it off and started the trimming.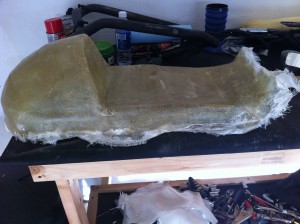 I pretty much just sat the nasty seat on the frame and drew where I needed to trim with a marker. Then I took a Dremel to it. If you do this, definitely go with the nicer trimming wheel instead of those tiny ones that explode after a minute or two. Also.. wear eye protection and a respirator. So much nasty stuff is about to be flying that you just don't want in you.
Here's the seat all trimmed up.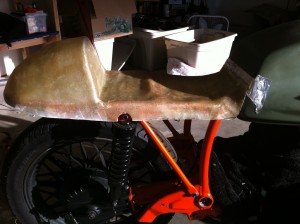 The guy doing my tank fab dropped the tank by so I could see it all together.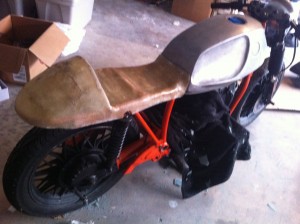 I fiddled with the tailpiece in the past, but in the end, it just didn't fit right, so I went ahead and made one from scratch. This is not a super complicated process, just time consuming. Also it's dirty. And not the fun kind.
I started off by cutting out some cardboard to fill in the gap of the subframe. This should add some support for when we lay the glass down the road.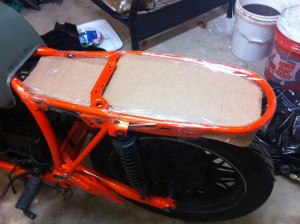 Next I laid up a bunch of floral foam blocks where the tail piece would be. I glued these together with spray adhesive… which only barely works as this stuff is too dusty. I Also made a cardboard stencil of the shape of the tailpiece.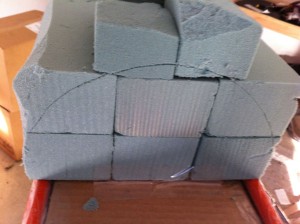 Then you can just start carving the shape with a knife. The floral foam is really easy to slice.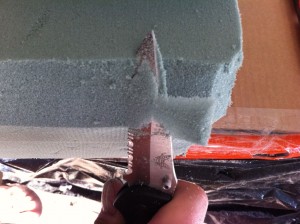 Once I get it down to the right shape, I go back with a razor and smooth the thing down real nice and sexy. This was actually Kate's idea.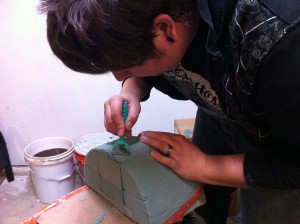 When you're done, you should have a nice looking tail shape. Don't pay any attention to the junk all over the place. We just moved into this house and the garage became the place everything got dumped until we find it's new home (which will most likely be the trash can).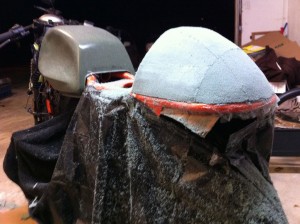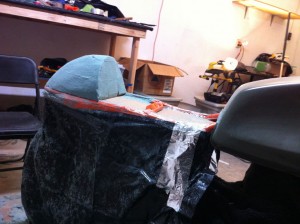 So now that you've inhaled a few pounds of green dust particles it's time to bring out the big guns and get to the toxic fumes.
Take some of that aluminum duct tape and cover the area to be fiberglassed. That means the subframe from side to side (across the gap that you cardboarded over) and the newly fashioned bum stop. You're going to want to use smaller strips for the round part of the tail so it will lay flatter. Once it all looks like a baked potato, use car wax to slick up the surface. This will act as a releasing agent (sorta).
This next part is best done with two people. Skyler was kind enough to give me a hand. Pre-cut your fiberglass into strips. You don't want to lay giant pieces down as it won't lay completely flat. Prepare a cup of acetone and your fiberglass resin. Using a paintbrush, apply the resin to the aluminum tape in one area and then lay a strip of fiberglass on top. Then use the paintbrush to push it down flat and soak more resin in.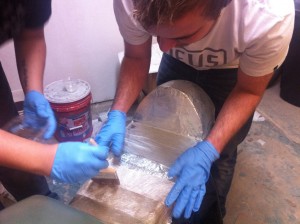 Once you've covered the whole thing, you can use fiberglass cloth (it's more smooth and delicious than the chop stuff) as a final layer to smooth it all out. Alternatively, you could probably just build the whole thing out of this, but I haven't tried that.
After this I leave it to dry, and usually don't touch it for at least 24 hours.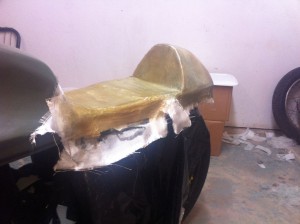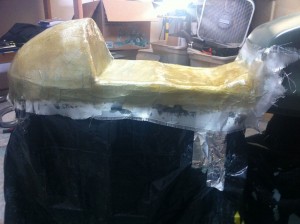 As you can see, it has some imperfections. But these will be sanded/bondo'd/cursed out.
So that's where I'm at RIGHT NOW. I'll update this post when I get in there and trim it, etc…
[UPDATE] This post is a little out of date and doesn't as much apply to my project anymore. To learn to create your won cafe racer seat / tailpiece, check out: www.cafematty.com/making-a-cafe-racer-seat
Probably one of the most significant and most distinguishing pieces of the cafe racer is it's seat and tailpiece. I mention quite often that the bike was in rough shape when i bought it. There were quite a few things that were frankenlopped on there. There was one thing on the bike that I quite liked and that was the old tailpiece. Best I can tell, someone cut a sportster tank in half, and welded it to the subframe. It had a little reshaping as well. This look was actually the model for what I want to do with the gas tank. I'll get more into that later on, but for now, I'm working on a few ideas with that tailpiece. Fiberglass Style.
I had the shop that fixed my subframe up cut that tailpiece off.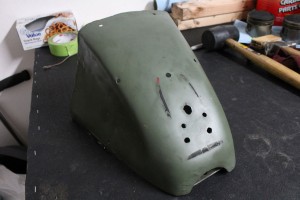 I started out just like I did when I created my seat pan. I covered the tailpiece with metal duct tape.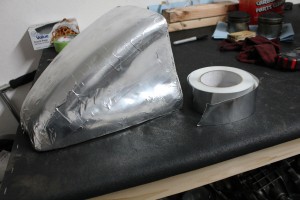 Next I threw on a few coats of wax. This will (hopefully) keep the resin from sticking to the tailpiece.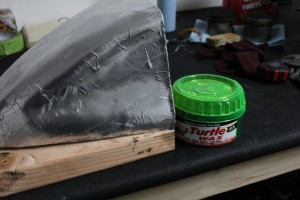 I cut up some fiberglass strips. Little tip here. Keep them small. That's the only way you'll get a good smooth coverage.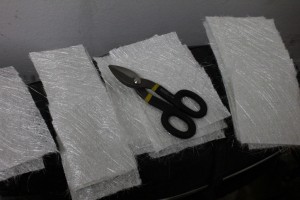 Apply resin. Apply fiberglass. Repeat. For the final step I used the nicer mesh cloth. This is more of a softer nylon mesh that goes over the top and smooths it all out.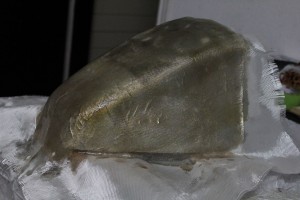 Let it sit for like 24-36 hours. Then slide (read: twist, bend, pull, torch, pry, swear, and spike) the newly-formed fiberglass creation from it's host.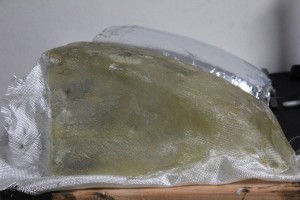 And there you have it! I'll post more about the tailpiece later, as I want to try a few things first.
Recent Posts