Petrol
Today I got a few things in from eBay. I've mentioned countless times this bike was in a scary state when I bought it. One of the most annoying things that has persisted through most of my changes since I started fixing it up is the Yamaha master cylinder and throttle. This thing drove me crazy, but it's been a real challenge finding a suitable replacement. Throttles aren't that difficult to find, but the master cylinder…. that's another story. I'm sure I could have made do with a number of possible finds I've encountered, but ultimately I wanted the correct master cylinder with the correct plunger for the dual disc front.
Well, the other day I lucked out. I managed to find a complete throttle and master cylinder assembly in perfect working order. It even came with the switch. I'm pretty sure I paid half what this whole assembly cost me JUST for the switch assembly a while back. If you're in need of one, shoot me an email. Otherwise, all my leftover parts will probably go on ebay when I wrap the project up.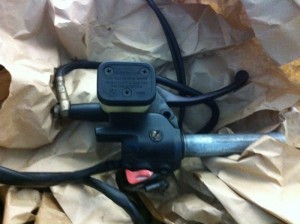 Now, if finding a much sought after part at a good price wasn't enough…. I also managed to get a tank in REALLY good shape. These aren't that uncommon. I've yet to find a perfect one on ebay, but For the most part, you can find a tank for around 180 bucks. I managed to score this little gem for about 20. I don't know how I managed to get so lucky, but I'm not arguing.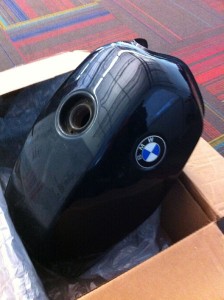 This tank will have knee dents cut and welded into it as soon as I decide on a shop.
Recent Posts