garage
So I've been blogging a lot less, lately. I think I bring this up every time I start to write anything. The summer got hot, and made garage time somewhat unenjoyable. But now I'm back at it. Barber Vintage Festival is just around the corner, and I'm trying to get the van ready while also doing some work on the BMW.
On top of that, work has been very busy. Top that off with the current (and final) season of Breaking Bad, and I'm a busy little bee. Don't worry, though. Barber is coming soon. Motorcycle riding weather is upon us (in Texas). It's about time to start dusting off those winter projects. Stay tuned!!
- Matt
So because I'm getting old and decrepit, It's become increasingly harder to be work sprawled out on my garage floor. I usually wake up the next morning with a sore back and neck. Sometimes my knees join in on the fun. So I've been wanting to make a little table to throw my bikes up on while I work on them.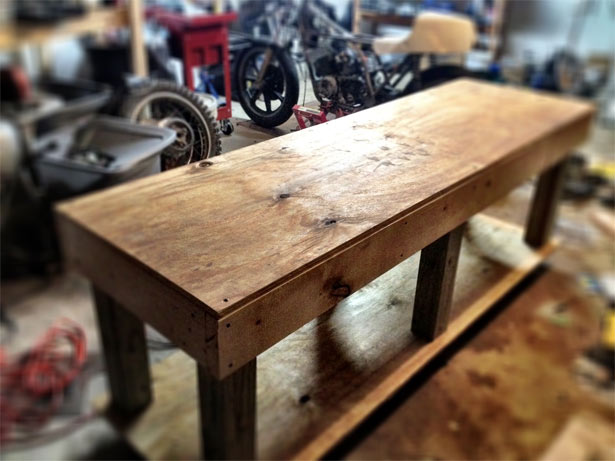 I know there are quite a few examples of others doing this, but I thought I'd share my take on the whole deal.
Materials Used:
3 – 2×6
2 – 4×4
1 – 3/4″ ply
4 – locking 175lb casters
~50 – 3″ wood screws
1 – Harbor Freight wheel chock
4 – Rum and Diet Coke
I've made a couple of little diagrams to help with the cuts and assembly of the table.
I'm not going to get too detailed with assembly instructions since I think the diagrams speak for themselves, but here is a quick run-down.
For starters the long cuts (6ft 5in in my plans) are completely up top you. This just determines how long your table will be. If you're building longer bikes, make it longer. After that simply make the required cuts, and begin assembly.
To start, build a box frame out of the long 2×6 boards and your short 2×6 boards. Make sure to put the shorter boards on the inside of the box (look at the picture), as they are cut 1'9″ to make a total of 24″ when combined with the 1.5″ sides of the 2×6. UNLESS OF COURSE YOUR 2×6 IS A TRUE 2″ THICK!!!! At which point you'll need to amend these plans with updated math. Ultimately you want the box frame to be X long (whatever length you want) and 2′ wide.
Once the frame is built, begin flushing the 4×4 legs in the corners. Make sure they're flush at the top of the box so everything is the same length. After the legs are on you can screw the top down. I recommend doing this on a flat surface and having someone lay out on this thing (getting weight on all the legs) while you do this, just to be sure it goes together straight. No piece of wood is PERFECTLY straight.. so when you build your box frame, it's more than likely going to have some twist in it when it starts to come together. Putting weight on the legs helps keep everything standing right. You now have a table, but there's more. We need a good solid floor to help with rigidity, and additional storage space.
Flip it over and put the bottom floor on… again getting weight on all the legs. I only used 2 screws through the bottom ply into the 4×4 legs. Also you'll want to measure well to get it lined up, as it will have overhang. (you'll see what I mean).
Now you can attach your casters. I stressed over placement of these for a bit because I don't want them too close to the edge.. but I didn't want them too far in that I couldn't reach the locks. I got them as close to the outer legs as I could for maximum support. I'll let you decide what you think is best.
Flip it over and voila! You now have a rolling motorcycle table. Add your choice of wheel chock and eye-bolts to keep the bike secure, and you're in business.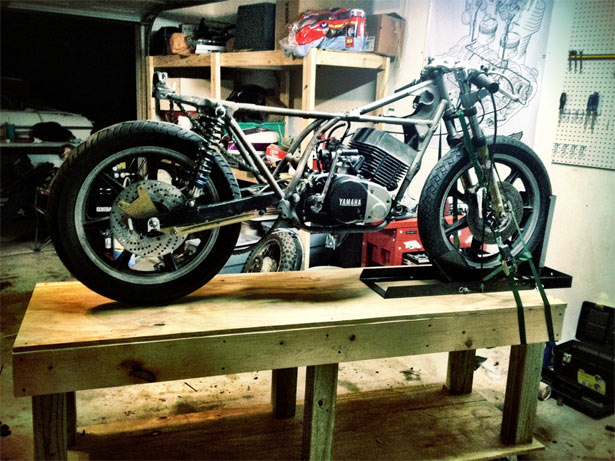 Obviously getting a bike up there is a 2-man job (unless you're brave (which I tend to be (followed by very, very sad))). I recommend putting the table against a wall so it CAN NOT roll or slide. Throw a ramp up against it (strap it to the eye-bolts if possible so it's solid against the table), and run the bike up there. It's a little more of a pain than the fancy pneumatic jobs that you just ride on and then actually LIFT the bike off the ground, but this thing cost me $65 to build (I already had the chock and the 3/4″ ply). The most expensive part being the casters, but if you order online you'll save a ton.
Also don't be afraid to have Home Depot or Lowes make the big cuts for you. I do that all the time for convenience. They can literally chop the whole project up for you in 10 minutes if you bring your measurements. Makes it easier to load and when you get home, you just screw it together.. Ikea-style.
Welp… see ya later…
Recent Posts