Exhaust
It's the middle of November, and the week of Thanksgiving… So naturally, the moment I decide to start tearing my bike apart for it's major overhaul, it ALSO happens to be like 80 degrees outside. It's a beautiful day to be on the bike, and I'm dismantling it. Ok enough whining….
I started by dropping the drain plugs on the oil pan and tranny, then removed/drained the tank.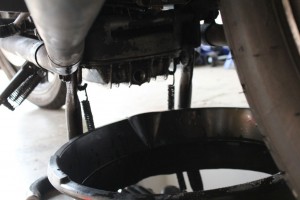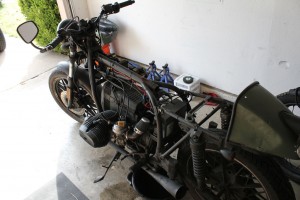 While the fluids drained, I thought I'd go ahead and take a break. Sam Adams style….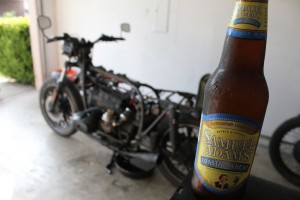 This is also a good time to bring up organization. I've gone a bit obsessive with my organization practice this time around. Everything labeled in ziplock bags.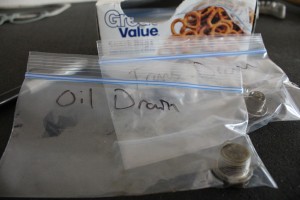 Before you can pull the heads, you have to remove the carbs and the exhaust. The carbs are fairly simple. Just disconnect the throttle and choke cables, disconnect fuel lines, and loosen the hose connecting the carb to the head, and voila!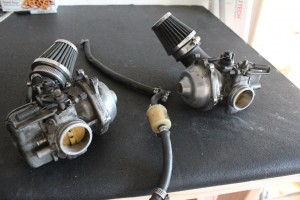 The exhaust… well… you'll need this ugly scrap of metal. The finned exhaust wrench is available from a number of online BMW parts stores, including Capitol Cycle and San Jose…. Which.. funny story about San Jose… They charged me 25 bucks for UPS 2 day delivery, and then sent it USPS (which cost them 8 bucks) and it got lost. I never use USPS. I am willing to pay more for more reliable package delivery. So thanks, San Jose, for ripping me off.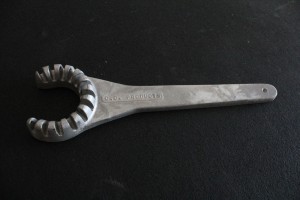 The exhaust took a little bit of effort to get off due to it's state of oldness. I also had some emotional support from my best friend Maverik.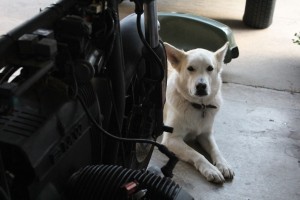 I removed the valve cover, just as before in my post about my rocker arm replacement. With the rockers removed, you will now be able to pull the push rods and then wiggle the head off. One note on the rockers.. It's not a bad idea to keep them together so the bearings don't slide out. I'm actually unsure if this is really an issue with bearings in good condition, but I didn't take any chances. I bound the rockers with some wire to keep them happy.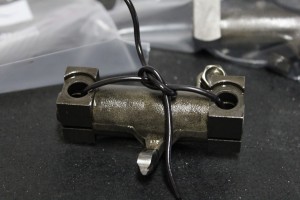 Again, I tagged and bagged every little nut and bolt. It't turning into a bike in a box.

Be careful pulling the heads off, as you don't want the pistons banging against the engine case when they slide out of the cylinder. My piston heads had quite a bit of carbon buildup.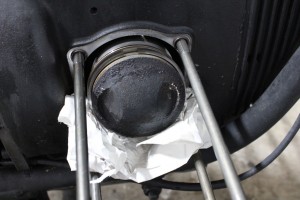 A look inside the cylinder reveals some pretty funny cross hatch on the cylinder wall. Almost as though someone attempted to hone it, but suddenly realized they had no clue what they were doing and just stopped. There was also quite a bit of carbon buildup on the area around the valves. This will be sorted out at the machine shop.

I sat the heads aside while I cleaned up my work area. I then cleaned them up to prepare them for the machine shop on Monday.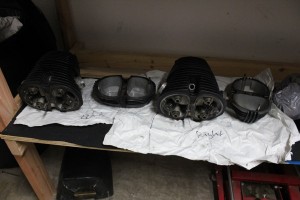 More to come tomorrow.
Recent Posts