EnDuraLast
Well it's been about 3 weeks since I installed the EnDuraLast charging system on the R65. So far It's worked like a charm. I still put my bike on the tender every few days as my short commute to work is just not quite enough to keep the battery healthy. So if you're out there on an older airhead, and still rocking the stock charging system, you should consider spending a few bones on this guy. One less thing to worry about on our ancient bikes.
EnDuraLast FTW!
EnDuraLast Charging System – Install
Charging System Revisited
Charging Issues Resolved (not really)
So after getting the charging system all laid out, I read through the instructions.. twice. I highly recommend this. The instructions are not hard at all. But each step is very necessary, and you don't want to overlook something because you just couldn't wait to get this beautiful contraption on your bike.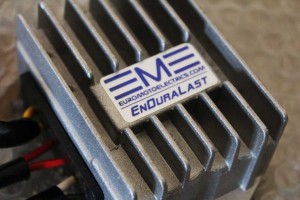 I'm not really going to post all of the details of the install, as the instructions clearly indicate everything… I just couldn't simplify it any further.
I started out by laying out every part as illustrated in the parts list diagram.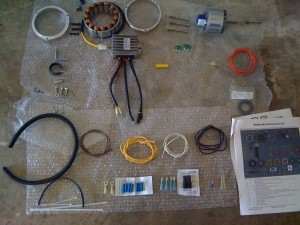 The first part of the install you will be removing all of the old charging components. This includes the rotor, stator, regulator, and diode board.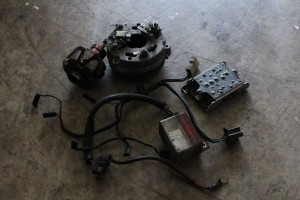 Installing the new rotor and housing was pretty simple. Make sure you have a torque wrench and torque as directed. Don't guess at this. It's there for a reason. Notice my placement of the new regulator / rectifier… this is an important step. You need to make sure this guy is placed in a well-ventilated area. Make sure you take a photo of it installed for warranty purposes. It states in the installation instructions very clearly that this should be placed in a well-ventilated area… if it fails, you'll want to prove that you did this correctly (as stated in the instructions). I went with right in the front. That was the most ventilated place I could find. It was either that or my helmet.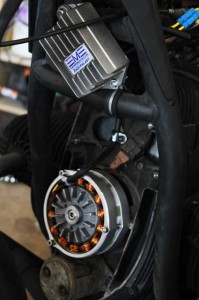 I finished the install by wiring everything up. This is probably the trickiest part, as you have to create your own connections. Not a big deal. just some cutting, stripping, and splicing. I fired the bike up for the first time. Immediately hearing a difference. The powerful magnet creates a kind of whining sound. I actually kinda like it. I tested the voltage and measured around 14.4 volts. I confirmed with John that this all sounds good. I should point out, during this install, I emailed John a few times from my phone while installing this kit and he was quite quick to respond. On a Saturday. I'm not saying take advantage of this. I'm just saying this was a huge confidence boost for me as I tore into the belly of my bike.
Once I confirmed that the system was working properly I went for a spin. I did notice a decrease in performance when speeding up or stopping. Not huge. But noticeable. It may have completely been my imagination, but it felt like the new system was a little heavier. Slower to spin up and harder to slow due to it's increased rotational mass. But again, the apparent difference is very slight.
Note: I have not actually confirmed this system is heavier than the stock system or that it actually decreased performance. It just appeared that way to me.
So. Overall, I'm quite pleased with the EnDuraLast system. The install was relatively quick and painless. And it seems to have completely solved my charging issues. Big thanks to John Rayski for all of his help in getting the system to me so quickly and the install tips.
Ok.. so a while back I talked about how the charging system on the airhead is a bit on the weak side, and is entirely dependent on the gen lamp bulb functioning. Since then, I've continued to have further issues, which seemed to progressively get worse. I figured I could probably spend a few bucks and buy some new brushes, test the diode board, slip Mt Dew to the squirrels that keep the generator going. Alternatively, there are much more modern, more efficient solutions to the charging system on the airhead.
There are two solutions (that I'm aware of). The Omega System, and the EndDuraLast system.
I spoke with both John Rayski (EnDuraLast) and Rick Jones (Omega) and both were nice, very helpful guys. The more I looked at the two, the more I leaned towards the EnDuraLast system, for many reasons which I won't really get into as you should make your own assessment as I did. Both are similarly priced. Both claim to deliver the same output. But by design, I believe the EnDuraLast will actually live a little longer.
I contacted John yesterday and said I needed it by Saturday. He said no problem. I had it in my hands by this morning (next day). All the way from Golden, CO. Land of delicious beer and awesome knives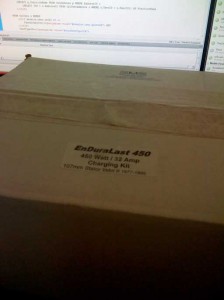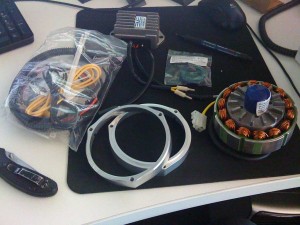 I'll install tomorrow.
Recent Posts