BMW Cafe Racer
So my little thin seat pad just wasn't cutting it anymore so I set about making a new, more comfy one.
I started by taping off my seat to create a new seat pan.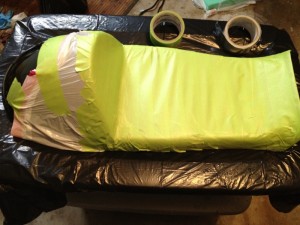 Then I cover the whole thing in aluminum tape.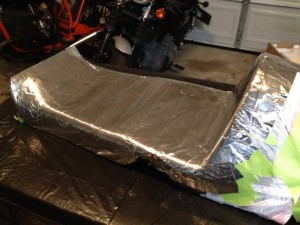 Then I do the fiberglass work. I don't have any pics of this because it's a messy process that requires a bit more attention. Prior to this step I did pre-cut 5 layers of fiberglass cloth the shape of the seat. Once you mix up your resin and hardener, you'll want to have a cup of acetone standing by for your paintbrush so it doesn't get hard. From here, I just lather on the resin and add a layer of cloth.
I let it sit for about 20 hours.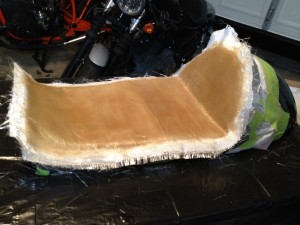 Then I draw cut lines and start chipping away at it. This is best done a little bit at a time. Better to take off not enough than too much.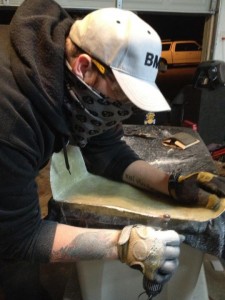 Once I have it cut to shape, I used a block sander to get the edge straight and pretty. The fit is good!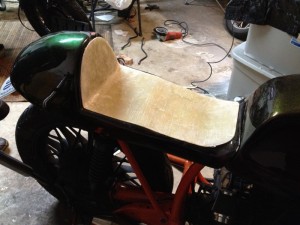 I was a little back and fourth on how I wanted to cover it. Originally I thought I might do it in two pieces.. like a car seat… but I've since been convinced it should be one piece.. which means the back needs to be strengthened so it doesn't bend forward when they stretch the material tight. I was advised by a composites / materials expert that this was an acceptable way to accomplish this. We basically bent some aluminum to the right angle and then drizzled resin around it to mold it in. Worked a treat!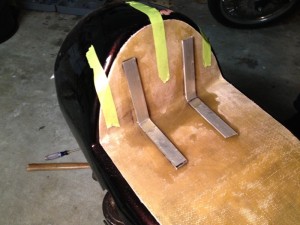 I dropped the seat pan off at this place. Not only did they do a great job, but the price was pretty good.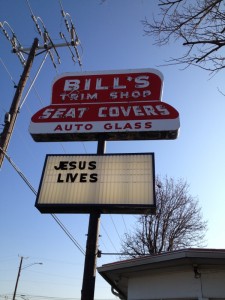 And here she is.. all padded up and ready for some bum-lovin..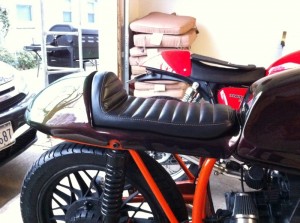 I logged about 100 miles on it the other night and my bum was happy the whole time. Yaay!
Recent Posts