Bearings
Yay yay yay! It's my favorite thing of the year!
Oh my goodness what a weekend! So this year it was more than just Skyler and me that went. With me in the van was my wife, Kate, and Kit. In vehicle two, Skyler and Junior.Together we made up the DFW Wrecking Crew…. so named because at any given time we were only allowed to have 2 working bikes between us.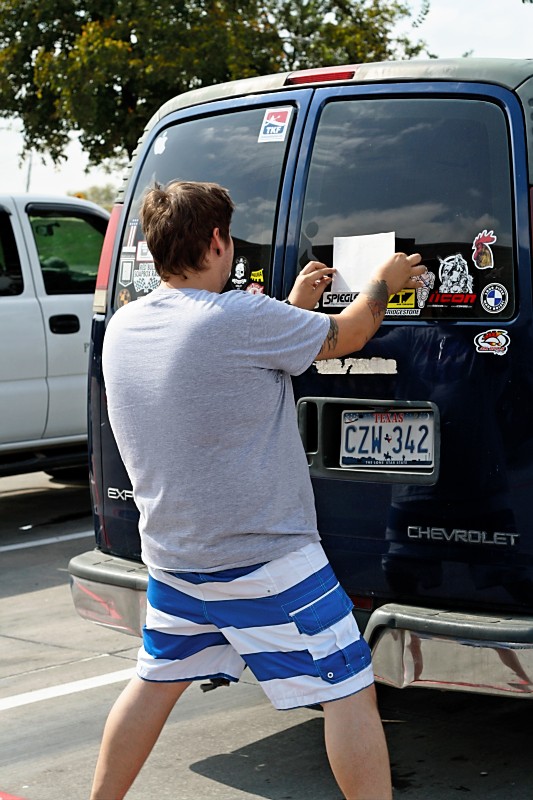 The ride down was fairly uneventful. Hanging out in the van. Listening to "Born On The Bayou" (CCR) radio on Pandora.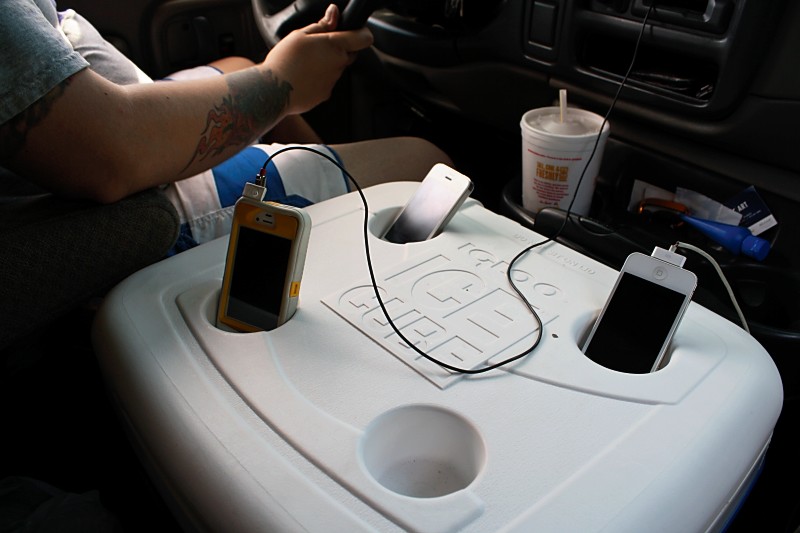 We rolled up to our gracious host's house around 2:30am and were immediately greeted by "Fix" from DTT. Fix was wearing long-underwear and riding boots. He and our good pal Justin helped us unload the bikes, while Kate setup our tent.
That night I worked on swapping out the jets in the RD400 as it didn't seem to want to run right. I knew the next day there'd be plenty of smart two-smoke guys hanging around that could help get it licked.
The next day we started Kit and Kate decided to run into Birmingham to get some paint from an art supply store for Kit so he could do some pin-striping. While in town, the van's fuel pump decided to take a huge dump, leaving them stranded. We took Junior's truck to figure out what we were going to do. AT&T's roadside assistance informed us they wouldn't cover the tow 2 blocks down the street to a local shop because my vehicle wasn't considered a "light vehicle". That's when Kit remembered he had AAA. We gave them a call and they showed up shortly. Kit and I rode with the van back to Kiley's house near Barber.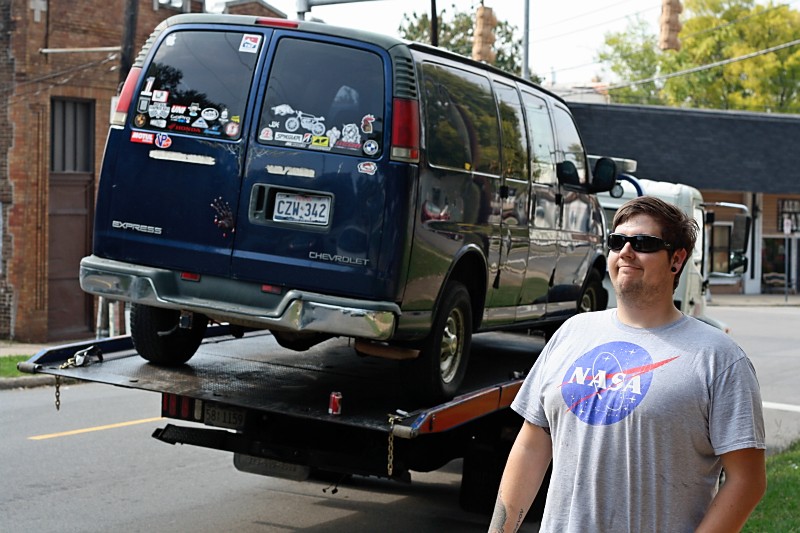 We eventually made it out to the park and hit the swap meet. If you need something… anything.. (as long as it isn't a clutch basket off a CM400 (sorry Junior)) … it's probably there. We poked around the track a bit. Hung out with some DTT peeps and then made our way back to Kiley's for the evenings entertainment (putting a new fuel pump on the van and fixing the RD400).
The fuel pump in a 3/4 ton Chevy cargo van is inside (and on top of) the gas tank. You have to drop this tank to get to it. The old fuel line + old wiring made Skyler and Kit decide it would be better to just cut a hole in the floor of the van right over the fuel pump and attack it from the air. So that's what they did.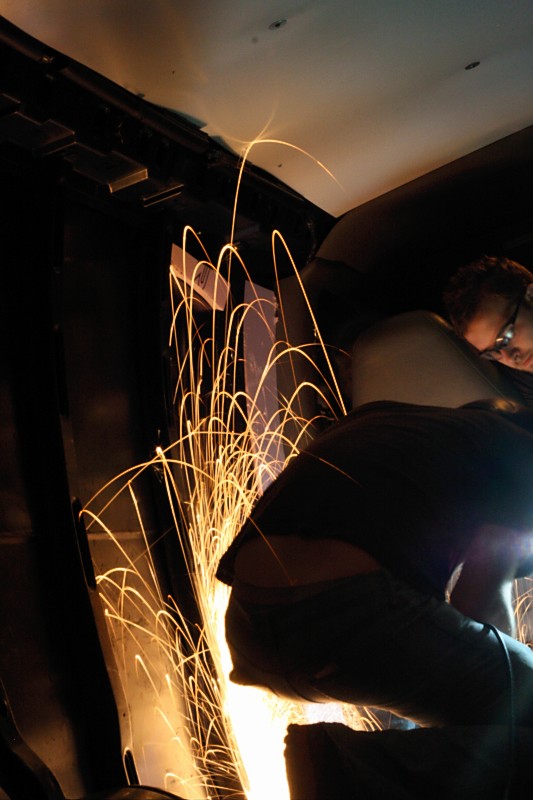 And they nailed it.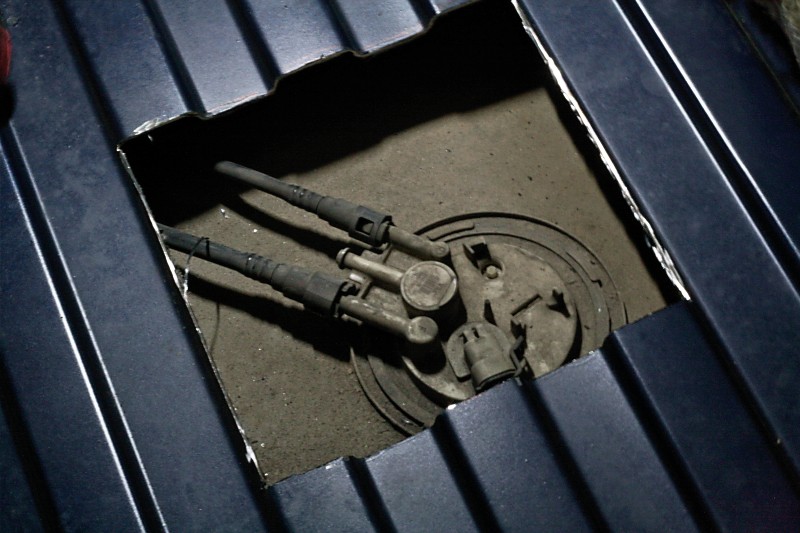 A couple of really smart two smoke dudes helped get the timing set on the RD.
Kit went to town on the RD with some sharpies.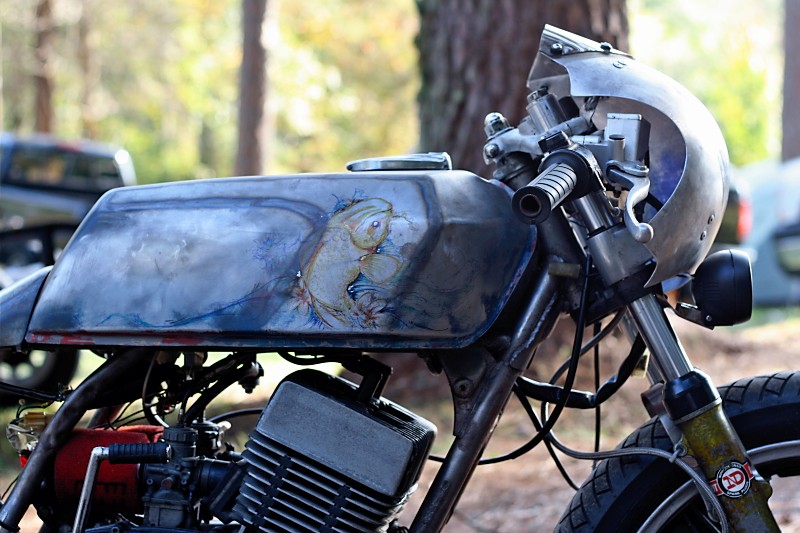 The next day Kate wanted to give the bike a test ride. She'd never actually ridden the RD before so she was a little nervous. The bike still didn't feel quite right, but she was really excited so we took it out for a short little ride. While on our short ride in the twisty road near Kiley's house, she suddenly decided to drop the hammer and absolutely left me and the BMW in her smokey wake. I must admit I giggled a little.
A few moments later, she ran out of gas.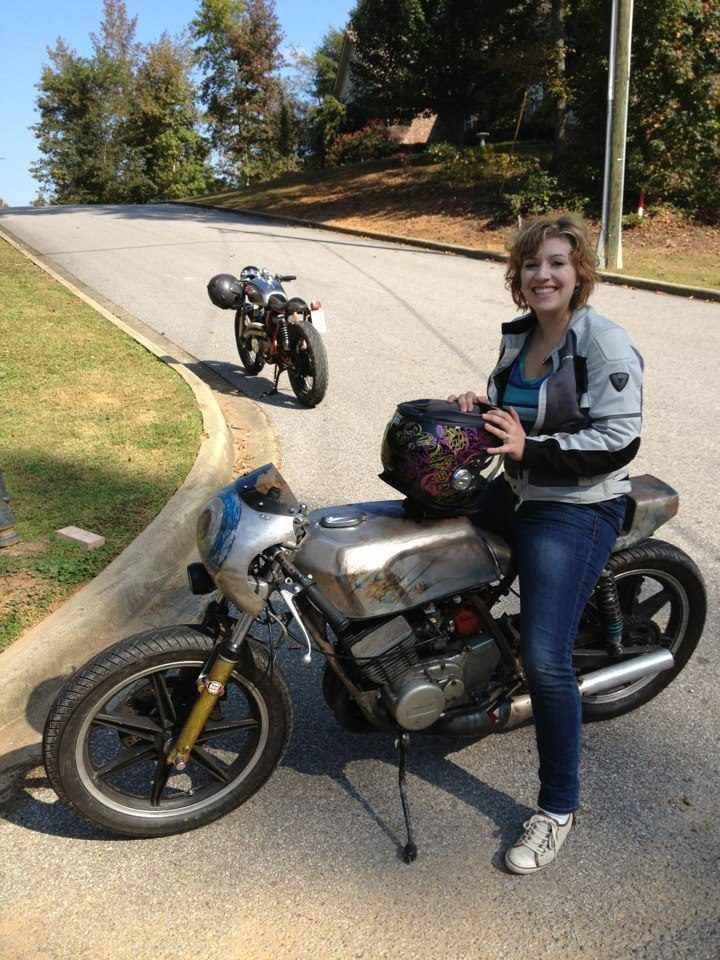 I ran back and grabbed the van and some gas and met back up with her. Topped her off and she was on her way. When I returned I realized her purse was sitting in the driveway. Right in front of where the van was parked. I hesitantly opened it and pulled her phone out. The back was cracked. Front was fine. But it wouldn't turn on. I killed her iPhone 4S… BUT SHE DID LEAVE IT IN FRONT OF A 7,300lb van…
Meanwhile, Skyler discovered he had destroyed the rear bearings in on his RD400, so we were trying to track some down on a Saturday. The good news is, they are a common size. The bad news is, every place was closed, and wanted an "opening fee" to come sell him some bearings on a Saturday.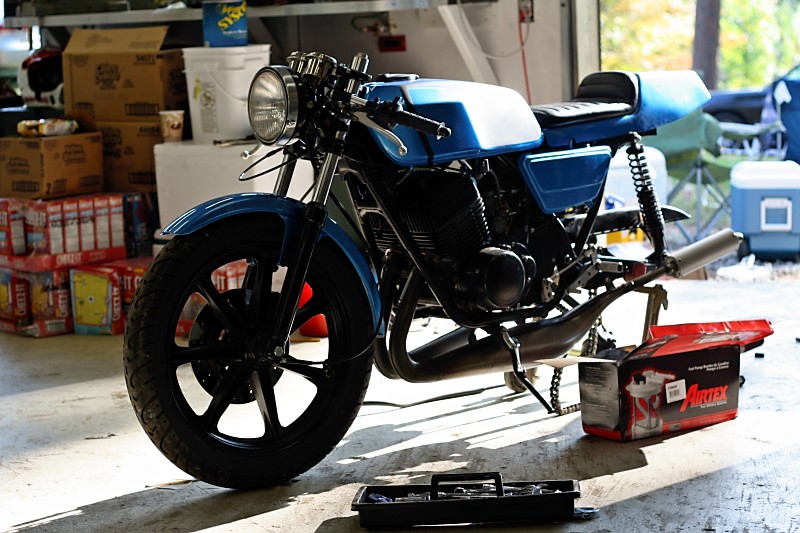 Skyler took the van into town to sort that out while Kate, and I went to the track. Kit stayed behind to help Junior sort out his CM400.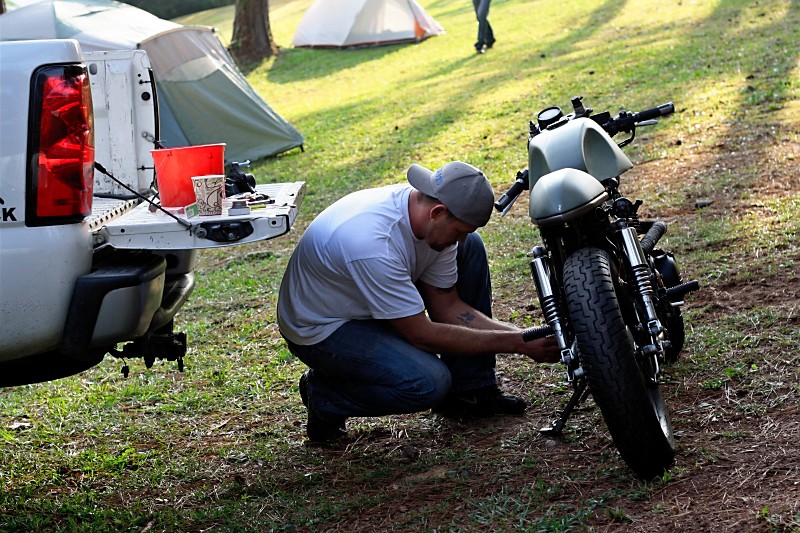 Kate and I spent some time walking around in the paddock area and then meandered down to the track. Much to my surprise, we were able to go through a little gate and go straight to the retaining wall. This was a happy moment for me. Bikes screaming past only a few feet away out of Turn 17. It's a magical thing.
Here are some shots from the track.
The next day we got a chance to head over to the museum for some awesomeness.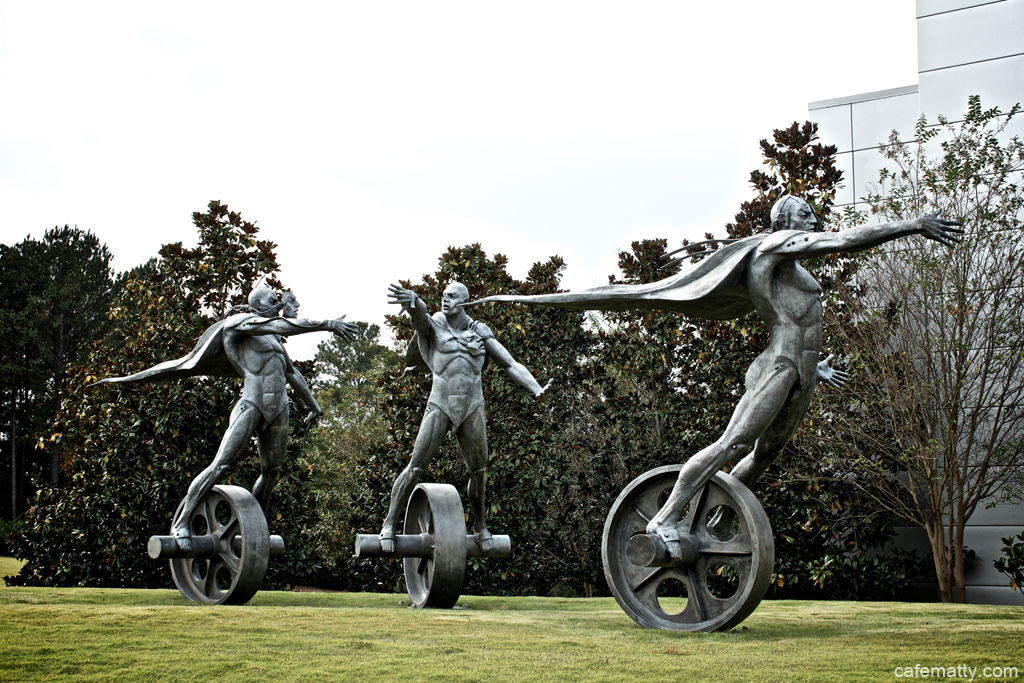 There was also some fine flying entertainment!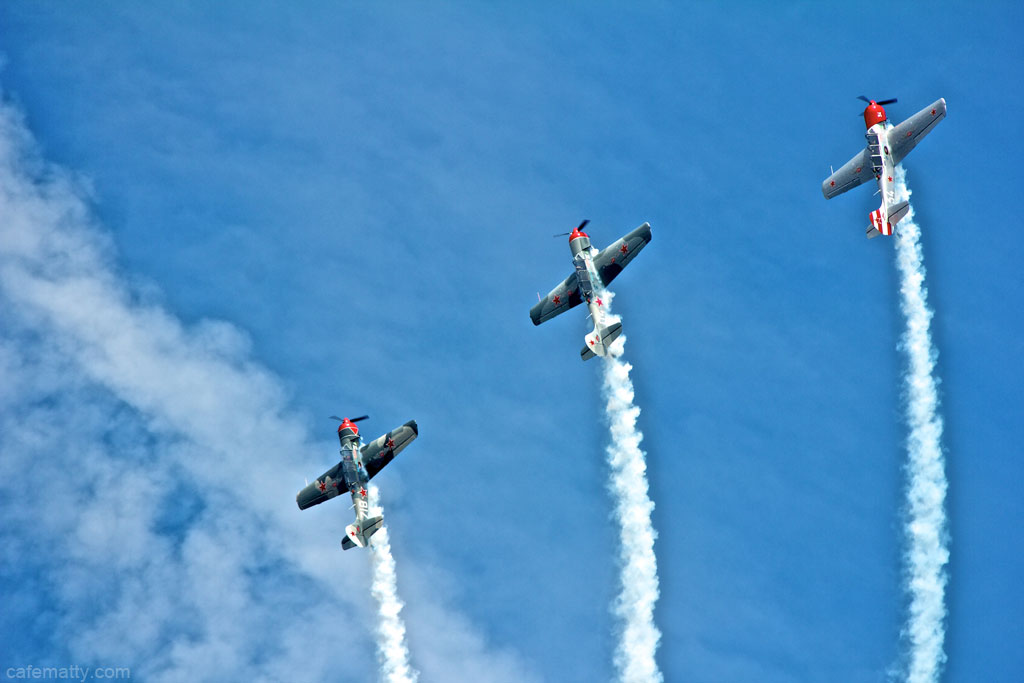 So friday I developed a bit of a clanky knock on my way to work. I was almost there, so I just took it easy the rest of the way. Something similar cropped up once before. I thought it was my imagination, but I noticed a light pinging, which went away after a bit. I went out at lunch to check on it. Started it up an found it was still knocking quite loud. I weighed my options after work and decided it was probably some spark ping, and that I should be ok for the short ride home as long as I don't open the throttle up too hard. The knock got louder on the way home. This is when I realized I had a really problem.
My goal with this bike since I got it was to get it in decent shape to ride until the winter, at which point I'd hand it over to a fella named Perry Bushong who is a Jedi Master in the art of taming the Airhead. With his help, I hope to rebuild the motor and get the frame powder-coated, etc….
I finally got around to tearing into the bike today. I hoped it would be as simple as adjusting the valves. Something Airheads are known to enjoy on a regular basis.
To get started, I removed the main valve cover nut.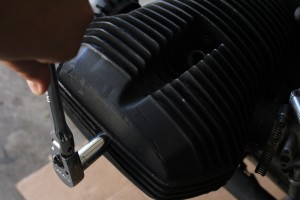 Next I removed the nuts on the opposite said of the main nuts. These are on the upper forward and lower rear sides of the jug. In retrospect I probably should have reversed this step with the first one.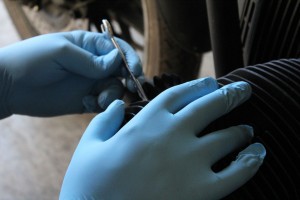 I gave it a few gentle taps with the rubber mallet to loosen it up.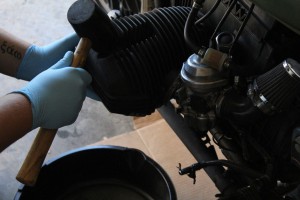 I gave it a slight tug and a wiggle and it pulled right off.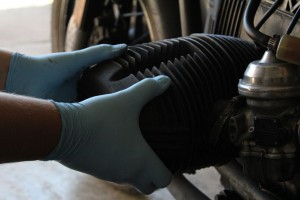 As the valve cover came off, I noticed some bits of metal falling out. I immediately knew I was looking at some real work ahead of me.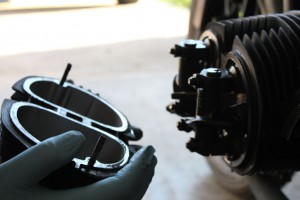 I found these small needles in the valve cover. They look a lot like watch pins. They were also laying inside the valve cover area. I looked around for loose-looking bits. It turned out the one thing I was getting in there to adjust was the thing that was seriously afflicted.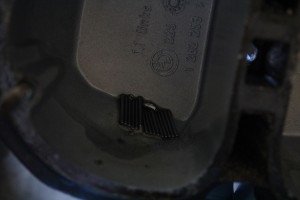 So I set about removing the intake rocker.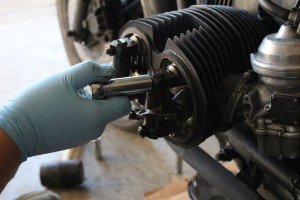 Next, I pulled the rocker assembly apart (suspecting the pins I found were in fact the rocker bearings).

Sure enough, what used to be the rocker bearings is now busted up metal.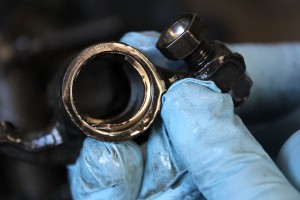 You can see here, the rocker assembly is pulled apart with all the little needle bearings. I had a look around for new bearings, and most forums suggest they used to be $5 from BMW and now they're $30. I hope that's not the case, as this bike takes 8! Two per rocker… two rockers per head. FML.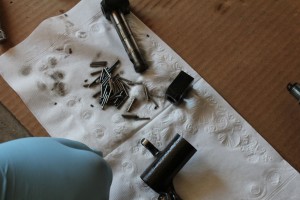 Lastly I inspected the push rod for damage. Looks to be just fine. I didn't pull the intake valve, as I plan to be replacing those anyway in the rebuild (if they need it). The valve springs did look good. It could have been a lot worse.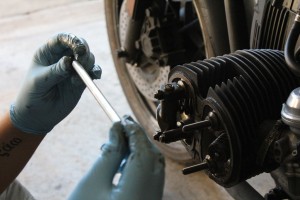 So tomorrow I go on the hunt for new rocker arm bearings. WEEEE!!! Thanks Kate for snapping some photos.
Recent Posts