Angle Grinder
So today I finished the seat. It's not perfect. But it sure is comfortable. And 1,000,000 times better than what was on there (read: a piece of sheet metal and some fun-noodle foam). I started out by tracing (estimating) the hump, and then went to hacking at it with my trusty turkey carving knife. This was 20 bucks at Wal-Mart, and apparently an industry standard. I will warn you…. the thing gets REALLY hot.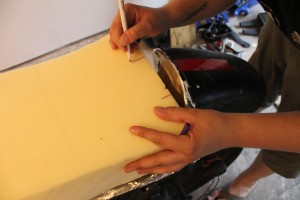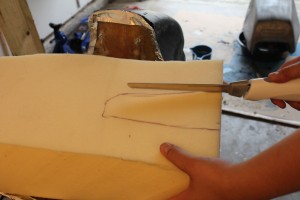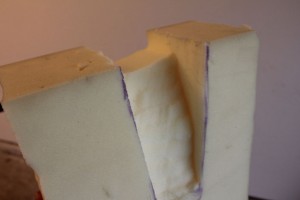 I then checked the foam for fitment. I goofed a little, but the good news is.. this stuff is REALLY forgiving. If you cut too much, chances are you can just glue another piece back on and trim it down. After this I glued it down to the seat pan and then started gluing on other pieces to get a good starting shape for the finished product. I used some multi-purpose spray glue. 3M makes some stuff specifically for foam.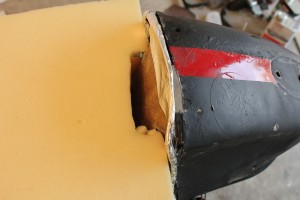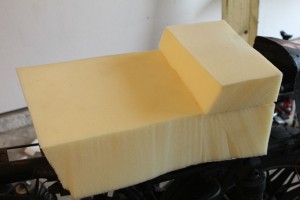 After this I started hacking away at it with the electric carving knife of doom until I had a basic blocky shape. Then I picked up with my trusty angle grinder and smoothed the whole thing out. Is there nothing this thing can't do?
EDIT: It turns out it CAN'T cut an egg in half.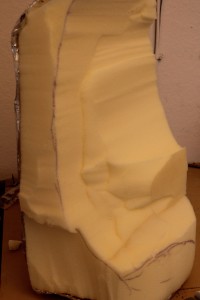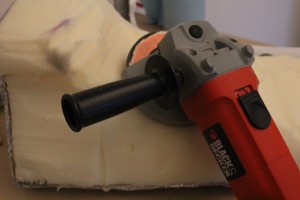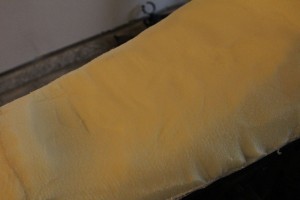 Once I had a smooth shaped seat I sat down and stretched some vinyl over it, stapling it into the wooden frame I'd added to the bottom of the seat pan. Staples will NOT penetrate the resin. Because I'm using one solid piece without cutting/sewing it to fit properly, there are wrinkles. I knew this would happen. I expected it to be worse, in fact. So, there's a small victory in all of it.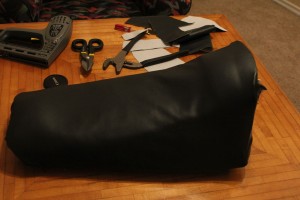 In the end I'm not entirely happy with it. The shape is a little off from my original vision. I will probably pop some staples out and re-shape it a bit to where I want it. The vinyl job I did on it is meant to be temporary, so I can get an idea of how the finished product will look. And I'm glad I did it, as I will be modifying it slightly. Once I find something that I REALLY like, I will be taking it down to an upholstery shop to be covered properly.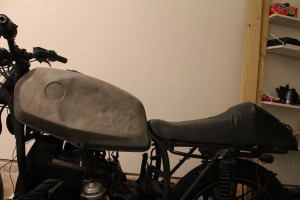 Have you bought that angle grinder yet?
So Memorial Day weekend is officially upon us. I wanted to go hiking, but after battling some bronchitis last week, I figured it would be better to spend the weekend euthanizing myself in the garage with fiberglass resin and tiny airborne foam particles. I went to Wal-Mart and bought a few things for the journey, including an angle grinder. If you do not own an angle grinder, go.. RIGHT NOW… and get one. This one is the standard cheapo, B&D Wal-Mart special. I picked it up for around 35 bucks. Worth every penny.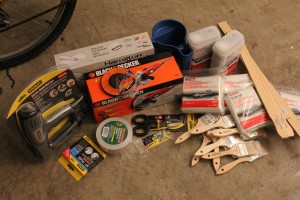 I started off by drilling some holes in the seat pan that match up with the original mounting bracket (I think). I ran some 1/4″ bolts through the holes and checked them for fit.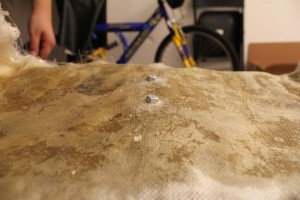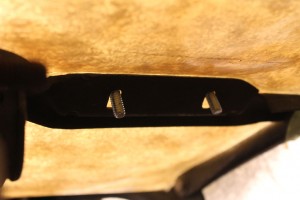 I then trimmed the seat pan with some shears and used the trusty angle grinder to shape and smooth the edge.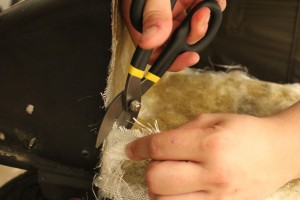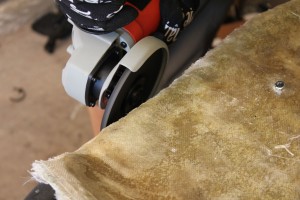 Then I went to work making a hump in the seat pan. This would allow me to add the contour to the seat without building it up with too much foam and making it too squishy. I started out with a bit of cardboard and layered fiberglass resin and mat onto the cardboard. Also important here… I glassed in the bolts from before, so now they are built into the seat pan.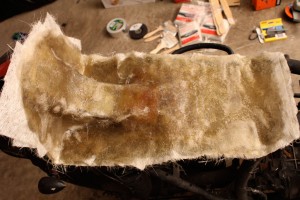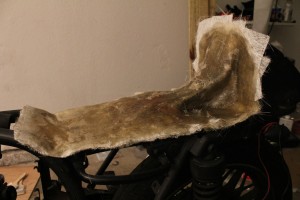 For some reason I just didn't bother to add the fiberglass cloth, which would have made it stronger. But I'm not super worried about it, as it turned out REALLY tough. And I guess I get to say I saved a little weight.
Go.. Get an angle grinder.
Recent Posts