Alternator
So I've been riding the last few days. The bike has been quite good to me. There seems to still be something going on with the charging system, as the battery isn't being fully charged. But I guess this all comes back to BMW's decision to put a weak alternator on the bike. Add 30 years of wear. Recipe for disaster.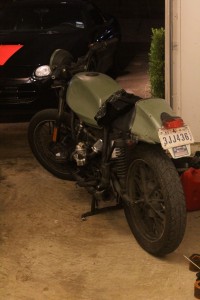 Do you own a BMW R65 (or any older R bike for that matter)? Did you know the entire functionality of your charging system is contingent on the operation of one little bulb? Oh.. You did?.. Well, I didn't.
So apparently BMW (in all their infinite wisdom) decided to make the little gen lamp a necessary part in the charging system of my R65. Without getting into too much confusing detail as to how it works, there's basically a little bulb on your dash that says your bike is (not) charging (when illuminated). This bulb apparently provides light to a tiny magical gnome just below the light socket. When this light first comes on when you start your bike, it awakens him. He then summons the hamsters behind the front motor cover to begin spinning the wheels to charge your bike.
If you turn on your key and this light doesn't come on, you have a problem. If you are riding and this light stays on, you have a problem. I actually didn't hook it up when I installed the new harness. I just didn't think it was necessary for the time being. OH WAS I WRONG. Reconnecting the bulb seems to have fixed the issue.
There is a nifty article over at http://bmwmotorcycletech.info/boxerelectrics.htm on how to hack your charging system and make it work without the bulb. Which is a good idea. If you ever find yourself out riding and that bulb blows, you better get to a parts store quick.
Recent Posts