KZ650 Cafe Racer
Not a huge update. Just scored some clubman bars for the KZ for about 30 bucks at Bates. I also spotted another set of KZ carbs in a bin. Don't need them, just thought it was funny they were sitting on top and I quickly recognized them.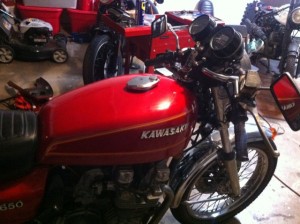 I took it for a quick ride around the block. Completely changed the handling over the old Schwinn bars. Definitely a step in a good direction.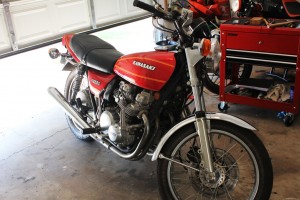 So yesterday I picked up a tasty new bike. She's a 79 KZ 650. I actually traded a few things for her on the Craigslist. She's a four-banger with a little bit of pep.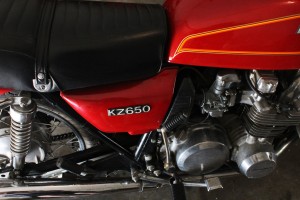 She's got some idling issues and the battery was deader than a doornail. (I think it might have been the original battery (seriously)). The old girl only had 6700 miles on her. Everything on the bike is in pristine condition.
All stickers are in tact and clean.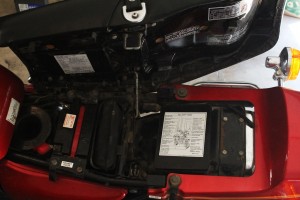 The original tool kit is in place and unscratched.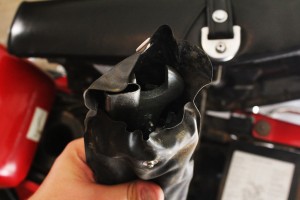 Inside the gas tank was practically spotless.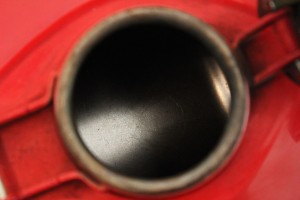 It even has the break-in sticker still on the tach.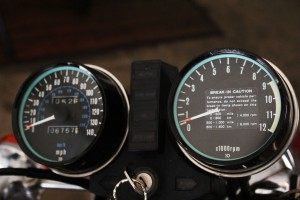 Kate and I even rode it to a friend's house for a little bike hack meetup. (about 15 miles round trip). No real issues other than the idling thing.
Now what to do with it..?
Honestly, given its nearly flawless condition, I just don't feel right about chopping and grinding away at it. For this reason, I want to keep the changes very minimal. I will definitely be adding some clubmans and probably custom building a new tail for it that hangs past the stock seat (bolt-on, of course). May remove the rear fender. Will definitely be switching out the turn signals. Just a few changes to enhance her classic beauty. I'm pretty excited about this bike as it will make a perfect two-up scooter for my wife and me.
Recent Posts