Archive for December, 2010
[UPDATE] This post is a little out of date and doesn't as much apply to my project anymore. To learn to create your won cafe racer seat / tailpiece, check out: www.cafematty.com/making-a-cafe-racer-seat
Probably one of the most significant and most distinguishing pieces of the cafe racer is it's seat and tailpiece. I mention quite often that the bike was in rough shape when i bought it. There were quite a few things that were frankenlopped on there. There was one thing on the bike that I quite liked and that was the old tailpiece. Best I can tell, someone cut a sportster tank in half, and welded it to the subframe. It had a little reshaping as well. This look was actually the model for what I want to do with the gas tank. I'll get more into that later on, but for now, I'm working on a few ideas with that tailpiece. Fiberglass Style.
I had the shop that fixed my subframe up cut that tailpiece off.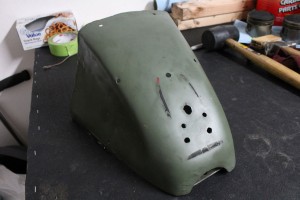 I started out just like I did when I created my seat pan. I covered the tailpiece with metal duct tape.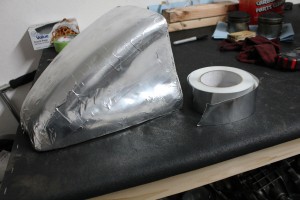 Next I threw on a few coats of wax. This will (hopefully) keep the resin from sticking to the tailpiece.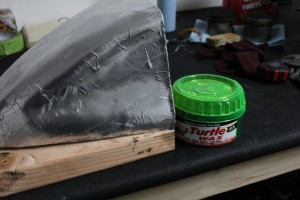 I cut up some fiberglass strips. Little tip here. Keep them small. That's the only way you'll get a good smooth coverage.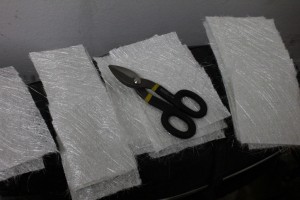 Apply resin. Apply fiberglass. Repeat. For the final step I used the nicer mesh cloth. This is more of a softer nylon mesh that goes over the top and smooths it all out.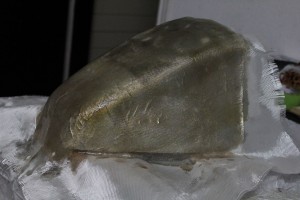 Let it sit for like 24-36 hours. Then slide (read: twist, bend, pull, torch, pry, swear, and spike) the newly-formed fiberglass creation from it's host.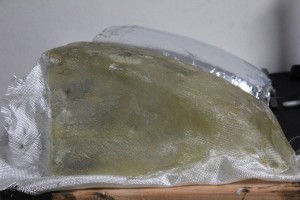 And there you have it! I'll post more about the tailpiece later, as I want to try a few things first.
Recent Posts