Archive for November, 2010
Today I've just been cleaning up engine and frame.
I started out by removing the tranny and laying the engine on it's back to get to the oil pan. I should point out I don't know if this is allowed….. but I did it. I removed all six thousand oil pan bolts and peeled it off.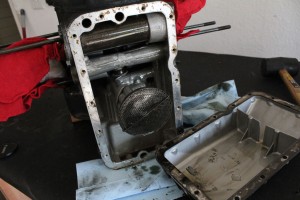 You might have noticed the little surprise laying in the pan. Needle bearings. From the rocker arm. That could have probably turned out a little worse….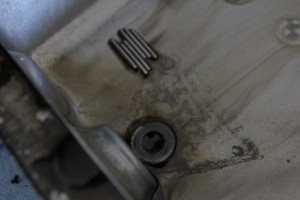 The pickup strainer had some weird little gasket caught in it. So.. that's the update on that.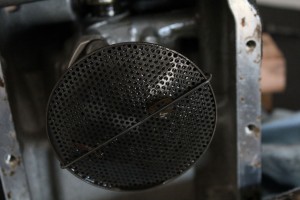 So due to oil leaking from at least 3 places (pushrod tube seals, oil pressure sensor, oil pan, etc….), the motor is basically a giant grease bucket.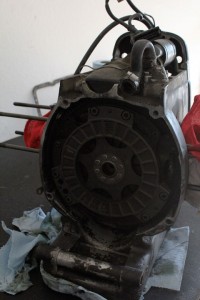 A little degreaser (what didn't make it into my eye) and it's looking a little better.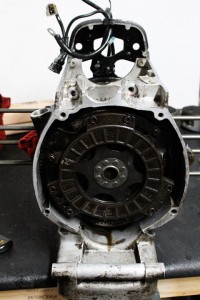 I also need to do something about the piston heads. The heads have been dropped off at Day Custom Engine in Richardson, TX for a valve job and honing.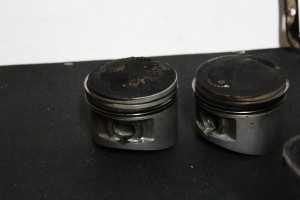 Be careful when removing piston rings. They are VERY sharp.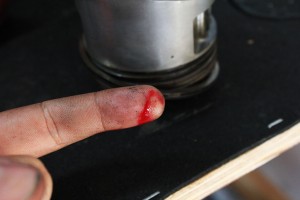 I also got a chance to do a little work on the frame to prepare it for the powder coater. I don't know if I ever got a good pic of it, but the rounded back part of the subframe for some reason had been cut and replaced with a pice of rebar. It looked just awful. I don't know why you would even do that. Anyway… I had a shop in Plano cut it off and weld a new piece of tubular steel in there.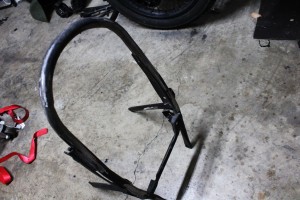 I also took the old grinder to the frame and knocked off all the bits of metal that won't be used anymore… brackets, and whatnot…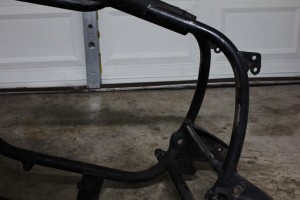 Today I turned my beloved Airhead into a heap of metal, wires, nuts and bolts. Follow me on this heart-wrenching, yet hope-inspiring journey as I venture further into the belly of my tamed beast.
I started out by removing the headlight. Seemed as good a place to start as any. Looking at the photo it kind of brings back memories…..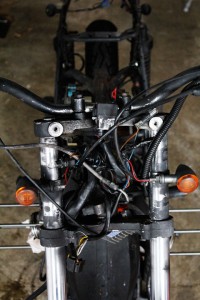 I managed to rip the wiring harness out (labeling all the important bits), all the while being reminded of the last time I monkeyed with this wiring harness.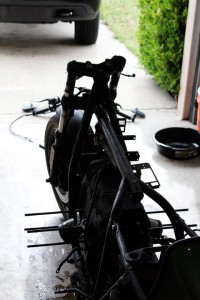 Next I knocked the old bars off. I'll be able to throw these away, as I have a nifty set of clipons. If anybody wants them, email me.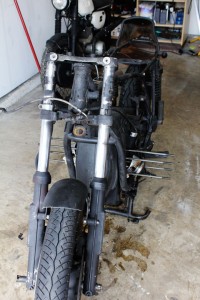 So we pop the boot back by undoing the clamp. These bolts use the other end of your 10mm wrench (the 12-sided part) that you don't ever use. You'll probably want to step on the break while you crack these guys loose. ALSO.. BMW recommends you do NOT reuse them. Get new ones.. Capital Cycle has them.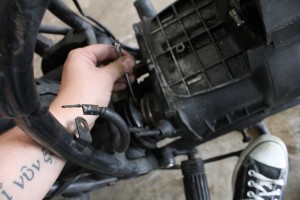 Next I threw a block of wood under the final drive and then set about dropping the rear suspension. It seems like I noticed something important during this step and made a special mental note to say something about this part here.. But I think I've thrown the mental note in the can… Sorry.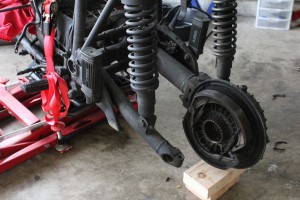 Now to remove the swingarm. You will need a special 27mm socket from BMW. This socket can be ordered from any BMW Motorcycle dealership and most online BMW parts stores. I'm not certain on the price, but I think it's in the ballpark of $4,999,999.99……. OR you can just do what I did and use your nifty angle grinder (the one you bought because I pressured you into it in previous posts) to thin the surface around the 27mm socket you're about to go buy from AutoZone.. You will also more than likely need to flatten the surface of the socket… This will fit into the swingarm tube nicely.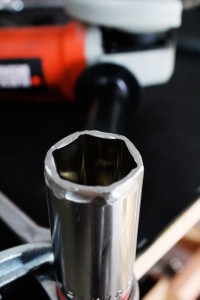 Next you'll need to arm your ratchet with the longest extension you can find (I'm not sure why I did that) and a 6mm allen wrench. This will be used to remove the swingarm bolt. I know.. you thought you removed it when you removed the two nuts with your newly-fashioned swingarm socket…. but now you have to remove the bolts that the nuts were hanging on to. Don't question the German engineering. Once these guys come out, you can remove the swingarm.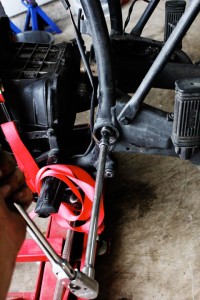 OH, OH!! I remembered that thing I was going to mention earlier….. I forgot to disconnect the brake linkage from the final drive. I removed everything holding the swingarm and then kept wiggling it trying to remove it, and it wouldn't come. I eventually realized I'm an idiot and removed the spring-loaded nut holding the linkage connecting the brake lever to the final drive brake actuator. THEN, it will come off.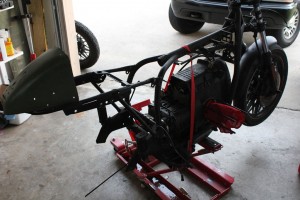 Next, I had a friend come over, and we pulled the two motor mount bolts and muscled the Boxer Beast over to the workbench where it will be made better, faster, and stronger.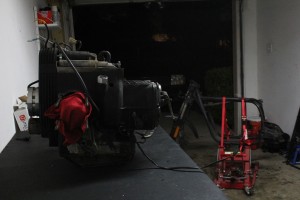 You DID get that angle grinder right?
It's the middle of November, and the week of Thanksgiving… So naturally, the moment I decide to start tearing my bike apart for it's major overhaul, it ALSO happens to be like 80 degrees outside. It's a beautiful day to be on the bike, and I'm dismantling it. Ok enough whining….
I started by dropping the drain plugs on the oil pan and tranny, then removed/drained the tank.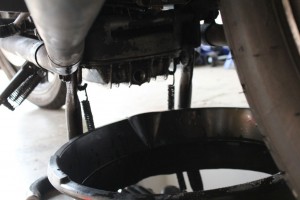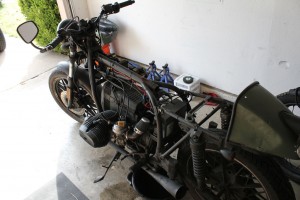 While the fluids drained, I thought I'd go ahead and take a break. Sam Adams style….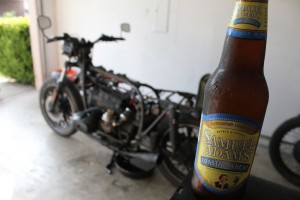 This is also a good time to bring up organization. I've gone a bit obsessive with my organization practice this time around. Everything labeled in ziplock bags.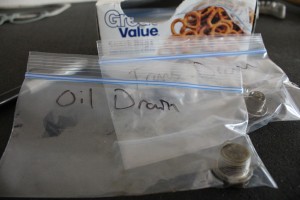 Before you can pull the heads, you have to remove the carbs and the exhaust. The carbs are fairly simple. Just disconnect the throttle and choke cables, disconnect fuel lines, and loosen the hose connecting the carb to the head, and voila!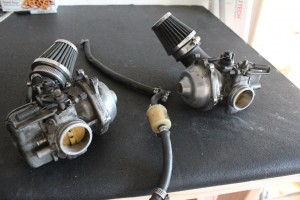 The exhaust… well… you'll need this ugly scrap of metal. The finned exhaust wrench is available from a number of online BMW parts stores, including Capitol Cycle and San Jose…. Which.. funny story about San Jose… They charged me 25 bucks for UPS 2 day delivery, and then sent it USPS (which cost them 8 bucks) and it got lost. I never use USPS. I am willing to pay more for more reliable package delivery. So thanks, San Jose, for ripping me off.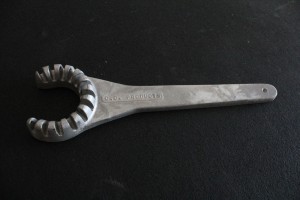 The exhaust took a little bit of effort to get off due to it's state of oldness. I also had some emotional support from my best friend Maverik.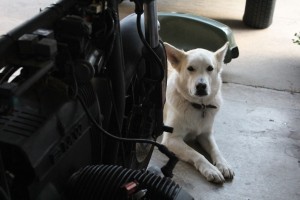 I removed the valve cover, just as before in my post about my rocker arm replacement. With the rockers removed, you will now be able to pull the push rods and then wiggle the head off. One note on the rockers.. It's not a bad idea to keep them together so the bearings don't slide out. I'm actually unsure if this is really an issue with bearings in good condition, but I didn't take any chances. I bound the rockers with some wire to keep them happy.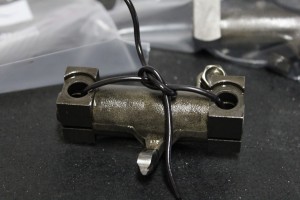 Again, I tagged and bagged every little nut and bolt. It't turning into a bike in a box.

Be careful pulling the heads off, as you don't want the pistons banging against the engine case when they slide out of the cylinder. My piston heads had quite a bit of carbon buildup.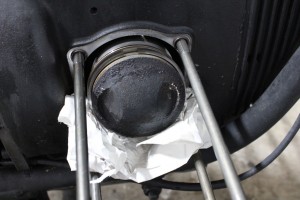 A look inside the cylinder reveals some pretty funny cross hatch on the cylinder wall. Almost as though someone attempted to hone it, but suddenly realized they had no clue what they were doing and just stopped. There was also quite a bit of carbon buildup on the area around the valves. This will be sorted out at the machine shop.

I sat the heads aside while I cleaned up my work area. I then cleaned them up to prepare them for the machine shop on Monday.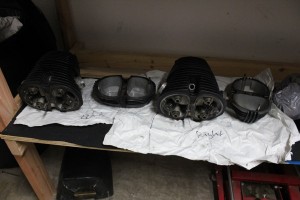 More to come tomorrow.
Recent Posts