Archive for October, 2010
So Friday before last (10/10/10) I ordered some goods from a popular BMW parts source: Capital Cycle. They told me I would have my package by the following Friday (10/17/10) at the latest. Well, according to UPS, they didn't drop it off until Tuesday. And I got it today (10/20/10). I'm not quite here to knock Capital Cycle, but I did plan to spend my rainy weekend working on the bike, which didn't happen. This being my very first experience with them, I was a bit disappointed. So that was my experience…..
On to my goodies.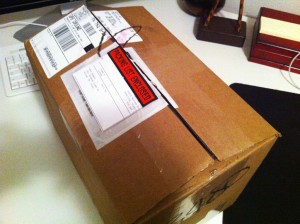 I always thought it would be funny to use old shredded currency as packing. I may do that some day. I saw a 5lb bag of it on Ebay for like $85.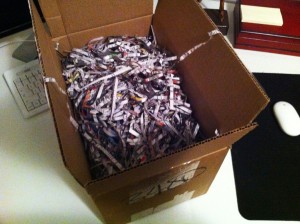 Airhead pressure sensor. This is a common source of oil leakage on the old airheads.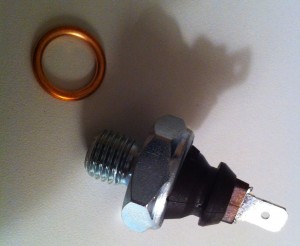 Airhead gasket kit. This replaces every gasket and every seal in my R65.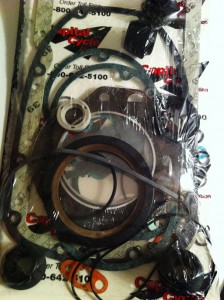 I don't think I've read a single post about the Airheads hemorrhaging oil that didn't mention either the oil pan gasket, the rear main seal, the oil pressure switch, or the push rod tube seals. I'm fairly certain my Airhead is suffering from all of them. I'm fairly confident with the top end. Valve cover gaskets, head gaskets, push rod seals, etc… I'm slightly more concerned about the rear main seal, and some of the other buried bits. I look forward to making the oil leaks go away, and having a squeaky clean BMW Cafe Racer.
So friday I developed a bit of a clanky knock on my way to work. I was almost there, so I just took it easy the rest of the way. Something similar cropped up once before. I thought it was my imagination, but I noticed a light pinging, which went away after a bit. I went out at lunch to check on it. Started it up an found it was still knocking quite loud. I weighed my options after work and decided it was probably some spark ping, and that I should be ok for the short ride home as long as I don't open the throttle up too hard. The knock got louder on the way home. This is when I realized I had a really problem.
My goal with this bike since I got it was to get it in decent shape to ride until the winter, at which point I'd hand it over to a fella named Perry Bushong who is a Jedi Master in the art of taming the Airhead. With his help, I hope to rebuild the motor and get the frame powder-coated, etc….
I finally got around to tearing into the bike today. I hoped it would be as simple as adjusting the valves. Something Airheads are known to enjoy on a regular basis.
To get started, I removed the main valve cover nut.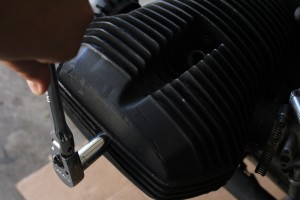 Next I removed the nuts on the opposite said of the main nuts. These are on the upper forward and lower rear sides of the jug. In retrospect I probably should have reversed this step with the first one.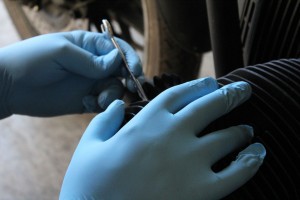 I gave it a few gentle taps with the rubber mallet to loosen it up.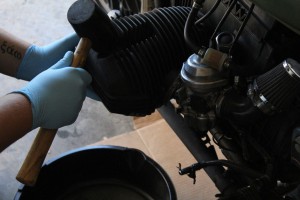 I gave it a slight tug and a wiggle and it pulled right off.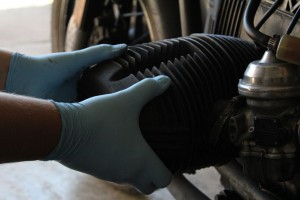 As the valve cover came off, I noticed some bits of metal falling out. I immediately knew I was looking at some real work ahead of me.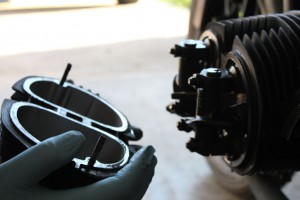 I found these small needles in the valve cover. They look a lot like watch pins. They were also laying inside the valve cover area. I looked around for loose-looking bits. It turned out the one thing I was getting in there to adjust was the thing that was seriously afflicted.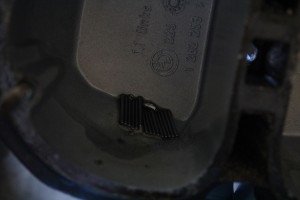 So I set about removing the intake rocker.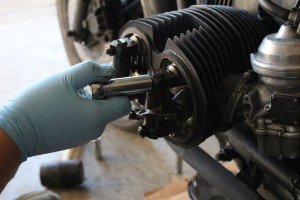 Next, I pulled the rocker assembly apart (suspecting the pins I found were in fact the rocker bearings).

Sure enough, what used to be the rocker bearings is now busted up metal.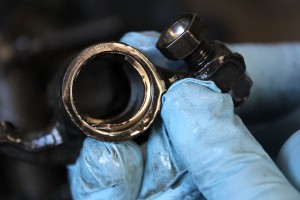 You can see here, the rocker assembly is pulled apart with all the little needle bearings. I had a look around for new bearings, and most forums suggest they used to be $5 from BMW and now they're $30. I hope that's not the case, as this bike takes 8! Two per rocker… two rockers per head. FML.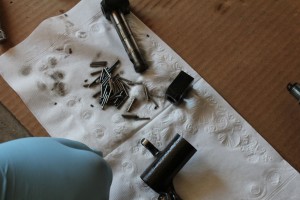 Lastly I inspected the push rod for damage. Looks to be just fine. I didn't pull the intake valve, as I plan to be replacing those anyway in the rebuild (if they need it). The valve springs did look good. It could have been a lot worse.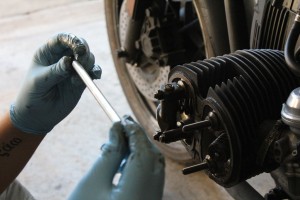 So tomorrow I go on the hunt for new rocker arm bearings. WEEEE!!! Thanks Kate for snapping some photos.
Recent Posts